Course: Design for Sustainability Online Course - Economic Dimension
Home ›
Courses ›
Course: Design for Sustainability Online Course - Economic Dimension
Program Description
Never has there been a better time and a more urgent need to create a more resilient and participatory future by turning our attention to the redesign of our economic systems. If you feel stuck or uncertain about what you can do and want to take part in this redesign, our e-learning programme is for you.
An increasing amount of people know that our current economic system is no longer sustainable, yet awareness of viable alternatives is spreading slowly. Our aim is to give you a better understanding of those alternatives and the true meaning of economy and wealth. Participants will learn about existing systems and tools that are useful and will explore what it might take to re-design those that have proven dysfunctional.
To do nothing is to accept that the answer to our problems is more economic growth – more production, more consumption, more highways, more buildings, more logging, more fishing, etc, which keeps us in a vicious degenerative circle.
Join this course and learn how to become part of co-creating diverse regenerative economies and cultures, carefully adapted to the biocultural uniqueness of the places they inhabit.
After completing the Economic dimension you will know how to engage with the transformation and redesign of your local and regional economy, and where to start the process of becoming a social entrepreneur, starting a cooperative or a community project. Graduates of our programmes have gone on to contribute to sustainability projects, build communities, become social entrepreneurs, create celebrated permaculture projects, biodynamic farms, transition town initiatives, successful consultancies and businesses and much more.
Certified by CPD UK
The Economic Design course is certified by CPD UK – Continuing Professional Development.
Continuing Professional Development (CPD) is the commitment by professionals to develop new skills or enhance existing ones through online training programmes and face-to-face courses. Many organizations, companies, and businesses prioritize CPD to ensure their workforce is up skilled, abreast with the latest knowledge and at the forefront of their sector.
Module 1 Shifting the Global Economy Towards Sustainability and Regeneration
This module explores in depth why the current economic systems no longer serve all – not even most – of humanity while having a degenerative impact on communities, societies, and the environment.
It invites you to explore the economy from a whole systems perspective and suggests how we might be able to re-design our economic system in ways that serve all people and the planet.
Module 1 explores the following questions:
Why is economics not a science but a system designed by human beings and therefore open to redesign?

How have so-called 'externalities' and hidden subsidies resulted in an economic system that drives us to live beyond planetary boundaries?

What is the role of international institutions, like the International Monetary Fund, the World Bank and the World Trade Organization, and how do the lobbies of multinational corporations influence economic policies?

What are the best places to intervene in the system in order to shift the global economy towards sustainability?

What are some promising signs of hope that the redesign of our economic systems is already underway?
Module 2 Community Banks and Currencies
We examine the basic design of our current monetary system and why it is structurally dysfunctional, driving increasing inequality and creating a systemic need for economic growth.
We also explore a wide range of locally and regionally-based complementary currency systems and other existing alternatives.
Module 2 asks:
Why is the debt-based monetary system that charges differential interests for loans and deposits structurally unsustainable?

How could we re-design our monetary system and introduce more diverse currency types to create a more sustainable and resilient system?

What is the role of locally and regionally-based investment systems, microcredit, microfinance and crowdfunding in creating a more sustainable economy?
Module 3 Right Livelihood
In Module 3 we start by taking a closer look at why Growth Domestic Product(ion) or GDP is an insufficient economic indicator and what alternative national and international indicators already exist. Local and community scale indicators for economic vibrancy and well-being are examined next, along with participatory budgeting, a look at guiding values for economic life and at how collaborative consumption and peer-to-peer networks are already offering new pathways to engaging in right livelihood.
Module 3 helps you find answers to the following questions:
In the redesign of our economic systems at local, regional, national and global scale, what might be the role of new kinds of indicators and ways of measuring the success of an economy?

What guiding ethics for economic life would help us in the creation of a sharing economy based on peer-to-peer collaboration and collaborative consumption?

What shift in perspective and practice might enable us to design for generosity, trust and participation in the service of a common good?
Module 4 Revitalising Local Economies and Social Innovation
This fourth module is all about how we might strengthen economic activity at the local and regional scale and thereby increase community resilience and create the enabling conditions of the political ideal of subsidiarity. We explore how to 'plug the leaks' that drain local wealth in favour of multi-nationals and their shareholders, and offer examples of effective economic localisations around the world. We also investigate how social innovation and entrepreneurship, along with the creation of regenerative enterprise ecologies at the regional scale are all part of this transition towards a world where a strong global economy is the result of effective collaboration between vibrant local and regional economies.
Module 4 asks:
How can a shift towards a stronger solidarity economy create thriving and resilient communities and regions and what is the role of social innovation and social entrepreneurship in this transition?

Where can social innovators and entrepreneurs find support in communicating, financing and identifying opportunities for socially and ecologically regenerative development?

What opportunities, challenges and lessons can we draw from looking at the economic experiments and eco-social enterprises that have been created within ecovillages around the world?

What might characterise a regenerative enterprise and how do we set about creating one and linking it to like-minded businesses in its location?
Module 5 Legal and Financial Issues
Since good advice on running a social enterprise, how to design a sustainable business model and knowing what types and sources of finance and which legal structures you have to work with, all determine the success and effectiveness of your enterprise and/or project, Module 5 starts by addressing these issues. It also takes a closer look at the role of cooperatives, 'the commons' and 'open source' collaboration, as well as the kind of legal reforms that might be necessary to create truly regenerative cultures and economies.
Module 5 poses the following questions:
What is a business model canvas and can I use it to design sustainability and regeneration into my project's business model?

How do I choose between different types and sources of finances, and what legal structures might best serve my/our business/project?

Where might I find help in preparing a feasibility study and the business plan for my/our project/business?

What new ways of sharing ownership and access to resources, of innovating together and sharing intellectual property, and of establishing legal foundations for a regenerative culture are already being explored?
Your Investment
The cost of this unique and exciting course is £350 GBP. It may be the best investment you ever make for yourself. The whole duration of this dimension is eight weeks, encompassing approximately 80 hours of study time. Register up to one month before the start date to get a 20% early bird discount!
Upon completion, you will be equipped with the understanding and skills to become a confident change maker in economic issues of sustainability. It will also qualify you to go on to study in our fully certificated programme, Design for Sustainability, and join a Design Studio after completing the four dimensions of the course.
Last updated Nov 2018
About the School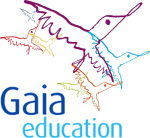 Gaia Education was created by a group of educators called "GEESE"- Global Ecovillage Educators for a Sustainable Earth- who have been meeting over a series of workshops in order to formulate their tra ... Read More
Gaia Education was created by a group of educators called "GEESE"- Global Ecovillage Educators for a Sustainable Earth- who have been meeting over a series of workshops in order to formulate their transdisciplinary approach to education for sustainability.
Read less