MSc in Global Finance (online)
Read more about this program on the school's website
Program Description
Our online MSc in Global Finance is a world-class master's programme, offered through one of the world's top 'triple-crown'-accredited business schools.
With its flexible online format, this course is designed to suit your needs if you're:
Looking to further your career in finance, without having to put your work commitments on hold or commit to on-campus studies
Based anywhere around the world and looking to study a world-class MSc in Global Finance without having to move to the UK or relocate elsewhere
New to the finance industry, experienced but looking to move to a different sector, or just looking to expand and deepen your global finance knowledge.
Apply now – applications are now open for intakes in January, May, and September.
Benefits
Some of the benefits of our online MSc in Global Finance include:
The opportunity to gain a master's degree in global finance from a world-leading business school
No relocation costs or visa requirements to consider
Study flexibly on your own terms – from wherever and whenever suits you and without disruption to your work or personal commitments
Gain global insights as well as expert knowledge and practical skills
Learn from industry-leading academics
Access ongoing academic and practical support
Connect to a global community of like-minded professionals
Join the Cass community and become part of a global alumni network spanning over 160 countries and offering you lifelong career opportunities
Gain access to the same high-quality standard of education and be awarded the same world-class qualification as a Cass on-campus student
Structure
The course is structured to fit around your work and personal commitments so that you can effectively manage your workload.
The course's key features include:
12 modules to complete within 24 months
The ability to study one module at a time – each with a 7-week duration
Study breaks every 2 modules so that the course is manageable alongside your other commitments
A focus on giving you in-depth knowledge of the key areas of global finance with each module
The first 2 modules of the course are designed to introduce you to today's world of global finance. The following 6 modules will build on your foundation of knowledge, and the final 4 modules will provide you with specialist knowledge about global finance within the context of various key industries.
Modules
Core modules:
Foundations of Finance
Bond and Equity Analysis
Investment Strategy
Financial Statement Analysis
International Finance
Derivatives and Risk Management
Alternative Investments
Corporate Finance
International Banking
Asset Management
The Insurance Industry
How you'll study online
At Cass, our interactive, collaborative and global approach to online learning means you'll never feel isolated. As a Cass online student, you're as much a part of the Cass community as our on-campus students, and you'll be supported through each step of your learning journey.
To give you an idea of how you'll study:
Each course module is conveniently broken down into weekly topics
Each module will feature an interactive, collaborative mix of video lectures, online readings and materials, class activities and discussions, and webinars – allowing you the opportunity to test and apply your knowledge, ask questions, and gain valuable feedback from your lecturers and peers
All modules are taught by Cass faculty staff who are industry leaders in their respective fields and will be on-hand throughout your studies to provide you with guidance and feedback
You'll learn, interact and collaborate online with like-minded professionals from around the world
All assessments are submitted and received online, so you don't need to travel for assessments or exams
Your online learning will be supported by our intuitive, easy-to-use online learning platform which can be accessed from anywhere – even while you're on the move
A dedicated Course Officer will be on-hand to help you throughout your studies with practical support
Your learnings will also be supported by core readings and further resources available through our comprehensive online library portal
You'll have access to all Cass and City, University of London facilities in London
Career pathways
Offering a wealth of career opportunities in a dynamic industry, global finance is an attractive career choice for many globally-minded business leaders. It's an industry that's continuously in high demand for business-savvy, adaptable and agile employees.
Our MSc in Global Finance will equip you with both the interpersonal and analytical skills as well as the in-depth knowledge you need to open up global career opportunities and enjoy a successful career in today's ever-changing world of global finance.
Entry requirements
An undergraduate degree in a relevant subject, equivalent to a UK 2.1 degree or higher
Strong verbal and written communication skills in English, with an IELTS score of 7.0 (including a minimum of 6.5 in writing) if English isn't your first language
Copies of your university transcripts and confirmation of your professional qualifications
Proficient levels of financial literacy and numeracy, with a basic knowledge of the finance industry
GMAT requirements
There are no GMAT requirements for entry into this course.
Last updated Mar 2020
About the School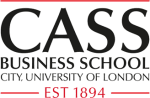 One of City, University of London's five specialist schools, Cass Business School is among Europe's leading business schools. Holding the prestigious gold standard 'triple-crown' accreditation, it's a ... Read More
One of City, University of London's five specialist schools, Cass Business School is among Europe's leading business schools. Holding the prestigious gold standard 'triple-crown' accreditation, it's also one of the world's top business schools.
Read less