Certificate in
Graduate Certificate in Nutrition Education
American University Online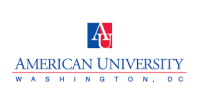 Introduction
The 100% online Graduate Certificate in Nutrition Education from American University provides a focused study of nutrition programming, methods, and interventions. It is designed for students who have previously earned a bachelor's degree and are ready to expand their nutrition skill set through continued education. Coursework can be completed in just one year.
Study in a flexible format and learn from expert faculty who have relevant nutrition expertise. As a student, you'll complete six courses for a total of 18 credits. If you decide to continue your education with a master's degree before you've completed 12 credits of certificate coursework, you can transfer all of your credits into American's online Master of Science in Nutrition Education program. If you decide to pursue the MSNE after completing 12 credits of certificate coursework, you can transfer six credits.
Coursework explores relevant topics like lifecycle nutrition, education approaches, nutrition for health, and health in the school environment to enhance your scientific knowledge and nutrition education skills. Electives are built into the curriculum for a customizable learning experience.
Graduates of this program have the knowledge and expertise to translate the latest research and theory into practice. When you complete your program, you will have a deep understanding of nutrition and health recommendations for roles in government, community agencies, schools, nonprofits, businesses, and more.