MSc in
Master of Science in Counter-Terrorism and Homeland Security
American University Online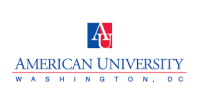 Introduction
American University's Master of Science in Counter-Terrorism and Homeland Security is an online, 33-credit degree for law enforcement and intelligence professionals who wish to specialize in homeland security. The program builds knowledge and skills in counter-terrorism, national security, law and policy, cybersecurity, and theories of political violence, with a unique focus on terrorism as a social and psychological phenomenon.
This flexible online program combines the benefits of convenient online learning and a practice-based curriculum with a brief onsite residency in Washington, D.C. In addition to this unique opportunity, American University offers connections to federal agencies and the opportunity to study with faculty who are leading practitioners in the field.
The program additionally positions students to compete for coveted internships. These include those offered through the U.S. Government Pathways program as well as the post-graduation internships in the Presidential Management Fellows (PMF) program, a flagship two-year leadership development program in the Federal government.
For the past two years, American University has produced more PMF finalists than any other university in the country. AU has a 98 percent success rate of its finalists becoming fellows.
Fellows receive 160 hours of intensive management and leadership training at one or more federal agencies, complete a four-to-six-month developmental assignment, and are eligible for full-time positions upon completion.

In this two year, 36-credit degree, students will:
Analyze and discuss national and homeland security problems through the application of acquired knowledge of criminology, social science, legal systems, policy, terrorism studies, and intelligence analysis.
Formulate, evaluate, and communicate public policies and programs related to counter terrorism while using acquired analytic frameworks and methodological skills, including statistics, economics, criminology, and law.
Apply empirical and data-driven solutions to analyze domestic threats to US homeland security.
Apply acquired skill sets, expertise, and values to real-world policy problems in a collaborative manner.
American University's MS in Counter-Terrorism and Homeland Security is a practical, respected degree that often leads to career advancement for graduates. Jobs at federal agencies are highly competitive and may require years to gain entry. But students who have earned this degree have pursued positions at U.S. federal government agencies and intelligence communities post-graduation, with a focus on law enforcement and intelligence operations. These roles are both in Washington, D.C., and in field offices around the nation and the world.