Bachelor's in
Bachelor in English/Writing
Eastern Oregon University Online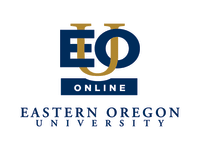 Introduction
EOU's online English/writing degree is a well-rounded combination of courses in writing, literature and media. While teaching English and language arts is a career goal for many students in the program, our degree will prepare you for many career options. The online bachelor's degree in English/writing can lead to careers in nonprofit administration, public relations, technical writing, creative writing, copywriting, film making, media production, law, management and more. EOU alumni are currently working as authors, lawyers, policy analysts, technical writers, editors, media designers and journalists.
EOU's English/writing program coursework provides transferable skills and adds real-world experience through our community and campus partnerships with nonprofit organizations, independent presses and K–12 schools. With these partnerships, students enjoy opportunities for community-engaged learning and pre-professional experience. Prepare for diverse career paths with many available electives such as film criticism, linguistics, digital rhetoric, advanced tutoring and writing theory.
Our curriculum instills critical, creative thinking and effective communication. Working one-on-one with faculty, students will become familiar with publishing, effective writing processes, leadership and management. Partnerships with the community encourage creative expression to varied audiences. Ultimately, graduates will practice researching, analyzing and communicating across a broad spectrum of situations.