Courses in
Pre-College Admissions Consulting Programs
Grace Education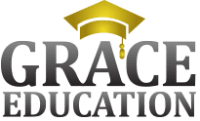 Introduction
With a 97% student admission success rate since its founding in 2012, Grace Education has helped hundreds of applicants gain admission to prestigious schools like Harvard, Yale, Stanford, Wharton, Columbia to name a few.
Our Pre-college mentors include graduates from Harvard and many top-ranking American and European universities as well as seasoned education professionals. They guide each of our students through every step of the admissions application process: pre-college guidance counseling, SAT/college test preparation, community service/leadership training/social etiquette and interpersonal skills, foreign language/study abroad exchanges, summer internship planning, college essay brainstorming, editing, as well as interview coaching and scholarship search assistance.
Grace Education Pre-college programs develop and empower students of diverse academic, socio-economic, and cultural backgrounds to think critically and creatively, nurture a lifelong love for learning, and prepare them for principled engagement in the world.
A Grace Education unfolds over time. It encourages young people to lead lives of learning, integrity, and high purpose. A sense of curiosity, humor, and a commitment to honoring the dignity of others are just a few of Grace Education's highest values.