Master in
International Master in Corporate Communication Management Online
Rome Business School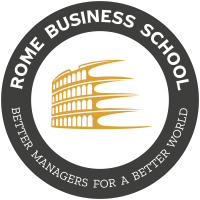 Introduction
Please note: this program is taught entirely in English.
Rome Business School's Master in Corporate Communication is designed to provide the student with a thorough and up-to-date knowledge of the political sciences and the most advanced and productive techniques in marketing, planning, communication, campaign running, and analysis of every possible political scenery and situation.
The Professional Master Online in Corporate Communication is designed to provide the managerial skills, industry knowledge, and skills necessary to effectively and professionally manage communication and marketing processes through professional techniques to improve corporate or political communication.
Rome Business School guarantees a multidisciplinary experience-oriented to an increasingly interconnected market: a guarantee of this, we boast belonging to the most ambitious group "Planeta Formación y Universidades", an international network created in 2003 by De Agostini and the Planeta group, market leader in university and continuing professional education.
Why choose our Master Online in Corporate Communication?
60% of our students obtain a job offer within 6 months of the end of the master
12% of our students found work with NGOs, in line with our "Better Managers for Better World" philosophy
International Bootcamps in Rome and Barcelona: thanks to our Bootcamps you will have an immersive and stimulating experience, focused on the topics of the business world;
Networking: we have more than 221 partners from the largest companies in the world market and, thanks to our workshops and company visits, students will have continuous opportunities and networking.
Curriculum
Program Structure
The Online format of Rome Business School's Master in Corporate Communication is structured to provide participants with a though preparation for the Political and electoral communication sector and crucial aspects of other related fields, starting with a wide overview of the broader management world and then proceeding to analyze all the specific subjects and aspects of Political communication development and management, as well as providing an in-depth insight of marketing and communication and their application to politics, its trends and best practices, as well as how they can be successful among the masses.
Methodology
''Circular Learning'' based on EFMD Circle for Quality Assurance
Sticking to the highest standards regarding the teaching methodology provided to us by EFMD, the Master will be taught through interactive lectures, case study analyzes, exercises, discussions, role-play, teamwork exercises, video conferences, business analysis, and sessions presentation of students. Case studies will be used to generate discussions and illustrate business problems. Students will be encouraged to read and engage in discussions and debates. The teaching methodology is based on learning by doing, through which teachers implement a student-centered approach, involve students, and provide activities that allow students to apply the knowledge acquired.
Career Opportunities
With our help, you can create your career strategy through a journey of self-reflection, exploration, and results. This program is designed to help you find internships or positions that match your ambitions and expectations. In particular, the master is particularly suitable for those who want to pursue a career in the following roles: Digital Strategists, Public Relations Manager, Global Reputation Manager, Stakeholder Manager, Internal Relations Manager, Crisis Manager;
Social Media Communication Specialist, Professional in Communication offices: Institutional-Professional –Political; Political Leaders, Brand Managers, Social Researcher, Opinion poll Analyst, Event Manager
Political Communication and Media Strategist Managers, Spoken Person, Lobbyst
Every year, Rome Business School presents the Employment Report, a document that collects data on the official results achieved by our students and former students in terms of employment and professional growth following their master's degree at Rome Business School. The results obtained were possible thanks to the commitment of our students and the incredible professionalism of our Career Services who, with diligence and dedication, were able to direct students towards the desired career path in the world of work.
In particular, according to the most recent statistics:
60% of our students obtain a job offer within 6 months of the end of the master;
12% of our students found work with NGOs, in line with our "Better Managers for Better World" philosophy;
43% of our students have obtained a job position in large multinational companies;
37% of our students are currently successful managers;
68% of our students increased their job responsibilities at the end of the master.