MSc in
MSc Entrepreneurship and Innovation (Online)
Rushford Business School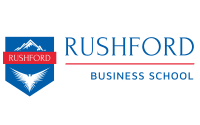 Curriculum
Rushford's 60 ECTS (One-year) MSc Entrepreneurship and Innovation comprises 15 courses – 5 Core Courses and 10 Entrepreneurship and Innovation specific courses.
To be qualified for 60 ECTS MSc, you must complete all 15 courses. Each course comprises of 4 ECTS.
90 ECTS top-up program (18 months) takes you to an advanced level in Entrepreneurship and Innovation field. It provides you an opportunity to choose another 5 of 10 electives in Entrepreneurship and Innovation related field along with a Master thesis of 10 ECTS.
120 ECTS top-up program (24 months) provides you an opportunity to research in the field, and allows you to choose another 5 courses with a Capstone Consulting Project of 10 ECTS.
MSc Top-up Programs
MSc Entrepreneurship and Innovation also allows an option to top-up programs for 90 ECTS and 120 ECTS.
Generally, it is recommended for Bachelor students with no work experience to opt for higher credits.
Higher credits are also recommended for those who wish to be an expert in field as top-up programs allow you to master the chosen area. 90 and 120 ECTS programs provide you access to advanced level specialised courses along with an opportunity to write Master Thesis, or a Capstone Consulting Project respectively.
Our flexible program structure for Online mode of study permits you to choose for top-up programs after completing 75% of your studies by contacting your Student Success Manager. For On-Campus programs, we recommend that you decide for the program tenure at time of admission.
Our Rushford online programs provide you flexibility to complete the degree in an extended duration of 3 years without payment of an additional fee.
Program Outcome
After completing MSc Entrepreneurship and Innovation , you will be able to:
assess real-world business intricacies along with the insight to handle different challenges.
attain a holistic knowledge and experience to start and run a business venture.
cultivate leadership and managerial skills appropriate in a diverse and multicultural business environment.
design innovative strategies to identify, exploit, and develop new opportunities.
manage financial resources in new and established firms.
depict cutting-edge technical and non-technical skills to excel in the domain of management and leadership.
integrate operational, strategic, and financial business aspects.
demonstrate strategic thinking and problem-solving approaches.
apply relevant business models, processes, and methodologies to real-world business conditions.
Career Opportunities
Entrepreneurs are phenomenal at initiating new ventures and in making existing businesses competitive. MSc (Entrepreneurship) finely blends management, finance, and business operations, providing learners with holistic knowledge and hands-on experience. These skills are needed in several industries such as information technology e-commerce, media, finance, retail estate planning, food industry, customer service, and management. After completing the course, learners will have the opportunities to either start their ventures or advance their careers in national or multinational corporations. In either of these options, the entrepreneurial mindset will colossally help them cope with market turbulence and dynamism.
Typical Job Titles
Learners can pursue the following career options after completing the course:
Business Consultants
Venture Developers
Public Relations Managers
Sales Managers
Business Analysts
Business Development Manager
Innovation Consultants
Customer Experience Manager