The Citadel is a landmark in Charleston, South Carolina that is noted for its educational reputation as well as its rich history. Founded in 1842, The Citadel has an undergraduate student body of about 2,300 students who make up the South Carolina Corps of Cadets. Another 1,000 students attend The Citadel Graduate College, a civilian evening and online program that offers graduate and professional degrees as well as undergraduate programs.
The Citadel's mission is to educate and develop cadets and students to become principled leaders in all walks of life by instilling the college's core values in a disciplined and intellectually challenging environment.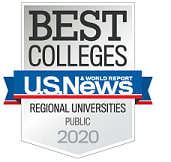 For nine consecutive years, U.S. News & World Report has named The Citadel the #1 Public College in the South for institutions offering up to a master's degree. The report has also named The Citadel the #1 College for Veterans in the South.
The Citadel is accredited by the Southern Association of Colleges and Schools Commission on Colleges to award baccalaureate, master's, and specialist in education degrees. The undergraduate and graduate degree programs of teacher education, counselor education, literacy education and educational leadership are accredited by the National Council of Accreditation of Teacher Education (NCATE). The Tommy & Victoria Baker School of Business at The Citadel is accredited by the Association for the Advancement of Collegiate Schools of Business (AACSB) International. The school psychology program is fully accredited by the National Association of School Psychology, and the clinical counseling program is accredited by the Master's in Psychology Accreditation Council. The computer science program is accredited by the Computing Accreditation Commission of ABET. The engineering programs are accredited by the Engineering Accreditation Commission of ABET.