We are globally recognised for our research, development and innovation and we've provided our students with world-class teaching for more than 425 years.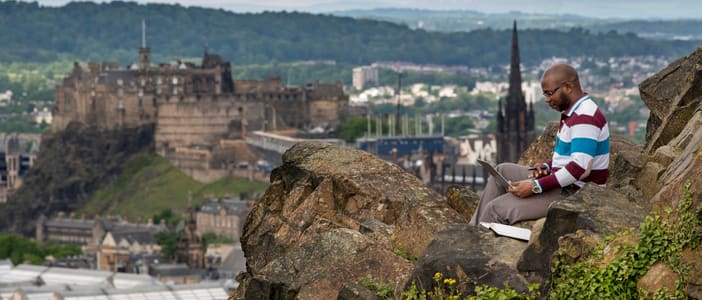 An Edinburgh degree works for you
The University of Edinburgh is one of the world's top universities, consistently ranked in the world top 50 and placed 22nd in the 2024 QS World University Rankings.
Our graduates are ranked 26th in the world by employers1.
Excellence in research
The University of Edinburgh has an international reputation for innovative research across a wide range of disciplines.
According to the results of the 2021 Research Excellence Framework (REF2021), the University is ranked fourth in the UK based on the quality and breadth of its research - known as research power - and is Scotland's top-ranked institution.
The REF2021 results reveal that nearly 90 per cent of the University's research activity is in the highest categories – 4 star and 3 star – which are classified respectively as ' world-leading' and 'internationally excellent', a growth of 10 percentage points since the previous REF in 2014.
Innovation in teaching
The latest report from the Quality Assurance Agency awarded us the highest rating possible for the quality of the student learning experience. We are always working to develop innovative approaches to teaching in order to discover the methods that work best for students, including e-learning techniques and peer-assisted learning.
Experts in online learning
We offer the largest portfolio of postgraduate online degrees in the UK2, welcoming more than 8,000 online students since 2005. Our flexible and supportive programmes are well-established and an increasingly popular choice for students looking to balance further study with professional or family commitments.
Beautiful capital city
Ranked in the world's top 10 student cities3, Edinburgh is a compact city with excellent transport links, which makes it easy to get around and to travel to other parts of Scotland.
Large enough to offer something for everyone, but small enough to feel like home, Edinburgh is a modern, sophisticated and beautiful European city with a diverse, multicultural community.​
Facilities and support to help you succeed
You will have access to one of the largest and most important academic libraries in the world, housing over 1.8 million printed volumes. You'll also benefit from 30 open-access computer labs with 24-hour access across key locations, as well as free laptop loans.
We offer a free Student Counselling Service and a University Health Centre, and our Student Disability Service provides a range of support for students with disabilities. We also offer excellent childcare services, making it easier to juggle parenthood and study.
Impressive global community
Our ambitious internationalisation strategy ensures the teaching and research we deliver offers global benefits. We're ranked in the world's top 20 most international universities4. Students from two-thirds of the world's countries study here.
We collaborate with a host of world-leading institutions in fields as diverse as e-science, engineering, life and medical sciences, and arts and culture. We're also a member of the global research network Universitas 21 and the European networks Coimbra Group and LERU.
Leading on social responsibility and sustainability
We are committed to being a world leader in addressing global challenges including poverty, climate change and the growing demand for energy, food and water.
As Scotland's first Fairtrade University, we have been promoting better conditions for farmers and communities in developing countries since 2004.
We have championed environmental sustainability since the early 1990s and were a founder signatory to the Universities and Colleges Climate Commitment 2009 and to the 10:10 campaign.
The University is host to several Global Academies committed to tackling issues related to health, justice, environment, and agriculture and food security. The Academies cross boundaries in research and teaching, adopting a multi-disciplinary response to challenging global issues.

1QS World University Rankings 2024
2Higher Education Statistics Agency 2017/18
3QS Student Cities 2023
4Times Higher Education, World's Most International Universities 2022